Hotel Marconi Benidorm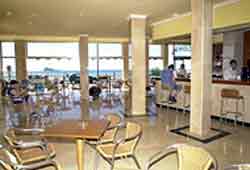 Photograph Marconi hotel interior
Secure online Booking
Click to book
Accommodation, Flights & Airport Transfer from
Click to Check for
lowest price Accommodation Only from
Sletoh


Hotel Marconi Location
Marconi, Benidorm
San Pedro 28
Benidorm
Alicante, 03501
Location:
A dream location, on the front on Benidorms quieter beach, Poniente, the 'peaceful playa'. The Marconi fringes a delightful Dove Park, faces the romantic Peacock Island and nestles beneath the white-walled Old Town, with its unique taste of Spain. with some of the best views of the blue Mediterranean
Marconi hotel Description / Information:
Sunbathe on the roomy sands, a few feet from the hotel and return to the warm hospitality of the Marconi.
Restaurant
International and Mediterránean buffet. Non smoking.
Breakfast
Breakfast served from 8:00 hours to 10:00 hours
Lunch

Lunch served from 13:00 hours to 15:00 hours
Dinner
Dinner served from 20:00 hours to 22:00 hours Buffet € 2.50
Bars and Entertainment
Cocktail bar
Hotel facilities
Concierge Services
Dry Cleaning / Laundry Service
24-Hour Front Desk
Concierge
Left Luggage / Storage Facilities
Family / Children's services
Hospitality
Air-conditioning
Room service
Elevator
Lounge
Restaurant
Bar
Swimming Facilities
Roof top Swimming Pool with dramatic views of the Valencian coast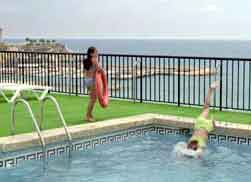 Photograph Marconi hotel pool
Room information
Front side view [23]
Excellent seaviews with a panoramic view of the resort and bay.
Single without balcony [9]
One queen size bed, confortable and quite interior room over a patio.
Single with balcony [5]

Standard Room [43]
Twin beds, confortable room and over the street. Telephone, card keys, Satelite color TV, safety box (by rental), balcony with table and chairs, full bathroom.
Inside Room [23]
Twin beds, confortable and quite accommodation view over a patio.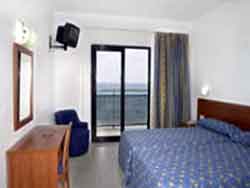 Photograph Marconi hotel bedroom