Gay Benidorm Guide, The scene, hotels, saunas, beaches & bars
Benidorm Gay Beaches Benidorm gay Bars Benidorm Gay Hotels Benidorm gay Clubs
Benidorm Cruising Benidorm's Gay Saunas
Benidorm has a very vibrant Gay Scene with the Gay nightlife mainly concentrated in the narrow streets of the Old Town
Benidorm Gay Beaches
Playa Poniente
A popular cruising area, and the La Cala area by the rocks at the end of beach is a nudist area. Be careful can be dangerous.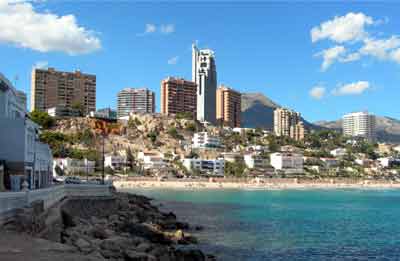 continue walking behind where the photographer of photo is stood and around the headland. We are not sure if this area is still popular due to the building that has taken place in the area
Ricon de Loix - Playa Cala Ti Ximo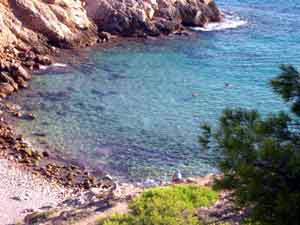 At the North West end of Playa Levante, a 10-15 minutes walk to the second bay beyond the headland. Use the short cut and walk along the pipeline, boxed in with concrete. Cruising from the first bay onwards, in the gorge above the second bay and along the cliff paths
Playa Levante
Playa Levante is a popular tourist beach with mainly populated with non gay visitors.The popular gay area and swimming area for gays is in front of Playa Bar (gay bar / cafe). For serious cruising and action visit the other more remote beaches listed here
Playa Raco Conill
There are no services so take a litre of water with you

Take a bus to La Cala, walk towards Alicante,past La Cala Beach and up the steep road straight in front of you. Before the top of the road transfer to one of the paths on your left and head for the ruined buildings on the hilltop skyline where there is a slow lazy dip between the 2 higher points in the skyline..and over the hill to the next beach.

It is very Cruisy around the entire area around the ruined buildings


From the hill top with your back to La Cal;a the beach is at an angle of 450 to your left. Follow one of the paths in that direction<

By Car Take N-332 to Alicante and exit at 'Vilajoyosa'. After 2 km make a left turn at the Casino. Head for the coast. There is a car park near the beach



Altea Gay or Nude Beaches
Playa Campomanes Beach
10km North of Benidorm, And near Altea. A partially gay nudist beach. Take the Altea to Calpe road N332, just before the tunnel, under Pueblo Mascarat.turn right.

We assume that the gay area is on the long thin peninsular just north of the harbour of Campomanes
La Solsida beach
More information on our Altea Page
Gay Benidorm's Gay Saunas
Adonis Sauna
Besides tourists and expats. the sauna is popular with the local married men looking for a bit of something different
Open 15:00 to 21:30 daily
Entrance price allows re-entry same day Bar
Sauna, Jacuzzi & Steam room
Massage
Cabins
Video room

Edif. Narcea, Avda Venezuela 4, Benidorm,
H2O Sauna
Sauna
Large Jacuzzi
Steam Room
Rest rooms & cabins
Video Lounge
Massage
Dark Rooms

Edificio Climent (apartments) Tomas Ortuno, 46 Near walking Street
Scorpio's Sauna
Edif. Carrasco, Calle Ruzafa 16, Benidorm.

Benidorm Gay Hotels
Villa de Los Suenos
A private gay guesthouse with swimming pool. 3km from Benidorm
Tel (+34) 96 586 8824
The Babylon Hotel
The Babylon Hotel, is a 25 room hotel and Cafe Bar open till 4am for non residents, In the heart of Benidorm's Old Town Gay Village.
From €25 per room per night.

Reduced weekly and longer stay rates available

Roof top terrace with sun loungers
Babylon Hotel, Calle Alicante, 28, Benidorm Old Town
Queens Hotel
Queens Hotel is located in the centre of the old town of Benidorm. and run by two gay brits who put on a good show in the Queens bar
Queens Hotel, Plaza de la Constitucion, 5, Benidorm
Don Juan Hotel & apartments
Luxury accommodation for gay customers in the centre of the gay village in Benidorm
Don Juan, C/ Santa Faz 28., Benidorm, 03501, Spain
Tel: (0034) 96 680 9165
Hotels in or near Old Town
The following hotels are located in or near to the Old Town
Hotels located near the gay scene.

Avenida hotel

Benidorm Plaza hotel

Corona del Mar hotel

MagicCristal Park hotel

Mar Blau hotel

Marconi hotel


Benidorm gay bars and Benidorm Gay Clubs
Are now located on their own page

Benidorm Gay Bars including
Benidorm Gay Clubs &
Benidorm Nightlife
Benidorm Cruising
Night - Parque de Elche
The small park at the Benidorm's Old Town end of Playa Poniente and the beach in front of the park . This used to be a very popular nighttime cruisy area but since the lighting has been installed it is fairly quiet now.

Possibilities a short distance past the park away from the old town in the shadows of the steps down to the beach
Day - Playa Cala Ti Ximo
Day - La Cala
Area of Old buildings on hilltop on the way to Playa Raco Conill beach. See Playa Raco Conill
Gay Books and Guides